Looking to Hire Production Workers?
Keep your factory at peak performance with our skilled production workers.
All of our personnel are carefully screened and have the experience required to hit the ground running. Whether you're looking for short-term or long-term staffing, we have a solution that will fit your needs.
Regional Supplemental Services
On-Demand Reliable Workforce
Choose RSS to fill your temporary production worker
positions
Keep your factory running smoothly with a wide variety of our skilled temporary production employees, including:
Light Industrial Employees
Warehouse/Distribution Workers
Various additional Production Worker positions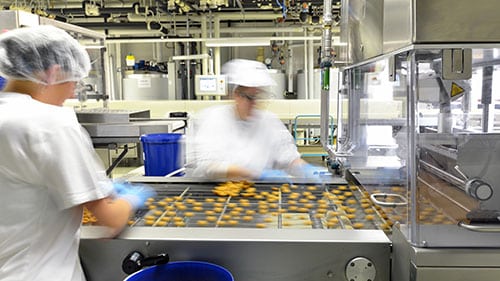 Proven track record
Proven track record of success in placing hard-to-find candidates in a wide variety of industries
Strategies for long-term employment
Strategies for long-term employment so you can keep your staff on board for as long as you need them
Immediate assistance
Immediate assistance in the event of an emergency so you can rest assured that your business will remain productive
Cost-cutting strategies
Cost-cutting strategies that can help you save money on your staffing expenses
Seasonal job protection
Seasonal job protection so you don't have to worry about your employees being laid off at the end of the season
A family-owned business
A family-owned business committed to providing you with exceptional service
Anthony M Smith, UNFI
"Thanks for everything! 2019 has been a year to remember! It has been my pleasure to have the opportunity to engage in a working relationship with RSS.
UNFI was at the forefront of what was going to become not only a business hurdle but a national pandemic. I was faced with multiple union strikes and staffing shortages around the United States. Upon notification of my first strike (walk-out) RSS was able to provide within 48-72 hours all the support necessary to get the distribution center up and running and on-time to customers. The customers stated that the replacement workers were better than the regular workforce.
I can not tell you how much I appreciated the support you and your team was able to provide when we were faced with a national emergency."
Regional Vice President, U.S. largest food distributor
"I wanted to reach out and thank you for the support provided. This was new territory for our management team. When it came to contingency drivers, your team stepped up in a very significant way during a very troubling time for our distribution center. Not only were you there for us, but you proved to be extremely fast and flexible with filling our needs in under 48 hours notice. Your onsite management of your driver contingency team was the exact partnership we needed to ensure we could focus our time on our customers."
Frequently Asked
Questions
Does RSS have a lot of experience placing temporary production workers?
Yes. We have over 30 years of experience placing production workers and continuously improving our recruitment procedures to ensure that we're supplying quality people working in production.
I can't afford to shut down production for undependable employees. Are RSS production workers reliable?
We pre-screen all candidates from our network, ensuring 100 percent confidence in the employees we provide. We recruit for all areas, from the aerospace industry to sanitation.
What do production workers do?
Production workers are a vital part of the manufacturing process. They produce and assemble products in factories. Their responsibilities may include operating and maintaining machinery, ensuring production standards are met and preparing products for shipping. Production workers need to be dependable, have attention to detail, have the ability to cross-train, and have an interest in technology in order to maintain an efficient working environment.
What are the most important skills and abilities a production worker should have?
Production workers need to have several key skills and abilities to succeed. A production worker needs to have a basic understanding of mechanical principles when it comes to maintaining production machinery. This means identifying different parts of the machinery and how they work together. Additionally, it means being able to troubleshoot problems that may arise. And, a production worker needs to be able to read and comprehend written instructions to follow production standards and quality control procedures.
In order to work in a production environment, workers need to have strong teamwork skills. This means being able to communicate effectively with other members of the team, as well as working together to achieve common goals. Additionally, workers need to be able to work independently when necessary. Taking direction and working well under pressure are also essential skills for production workers.
Physical strength and stamina are also important for production workers. In many cases, workers will be required to lift heavy objects or stand for long periods. Additionally, they may be required to perform repetitive tasks. As a result, workers must be physically able to handle these demands.
Production workers must also be able to instructions and safety procedures. Sometimes, they may be working with dangerous materials or operating machinery. As a result, they must be able to understand and follow safety protocols.
Finally, production workers need to be detail-oriented. They will often be responsible for inspecting products or assembling components. As a result, they must be able to pay attention to detail and catch errors.
With these skills and abilities, production workers can successfully have rewarding careers in production.
Why do factories use temp agencies?
There are several reasons why factories use temp agencies:
It can be challenging to find qualified candidates for factory positions.
Factories often have a high turnover rate, so they need a steady supply of new workers.
Factories may only need workers for a short period, so hiring them through a temp agency is more efficient.
Temp agencies may provide benefits and other perks that may be more attractive to workers.
Using a temp agency allows factories to avoid many of the risks and liabilities associated with hiring full-time employees.
As a result, hiring a temp agency to provide employees is an excellent option for factories.
For Employers Looking for
Staffing Solutions?
Employers please submit the form below regarding your need for staffing solutions.