Many industries currently are having difficulty finding employees. The U.S. manufacturing industry is especially hard hit. Manufacturers can't get enough workers to fill job openings. According to a recent Deloitte study, there were an average of 500,000 unfilled manufacturing positions at any given time in the past six months.
In conjunction with The Manufacturing Institute (the workforce and education partner of the NAM), Deloitte completed a year-long study of the manufacturing skills gap and its corresponding economic impact. More than 800 U.S. – based industry leaders were surveyed, and executives across the industry were interviewed. During the entirety of the study, executive interviews echoed the same signs of distress: "We can't find the people to do the work."
The study estimates that there will be as many as 2.1 million unfilled manufacturing jobs if current trends continue by 2030. According to the study, the potential economic cost of those missing jobs could hit up to $1 trillion in a single year.
These are pretty alarming numbers for an industry that has already been hit so hard. The study also reports that nearly 1.4 million U.S. manufacturing jobs were lost during the early days of the pandemic, "setting back the manufacturing labor force by more than a decade." Although the industry has somewhat recovered, recouping 63% of the jobs lost during that time, there is still a huge skill gap that all manufacturing companies struggle with.
A Talent Hunt
Finding workers to fill manufacturing positions has been a challenge for many years. Even pre-pandemic manufacturing executives struggled to fill positions and retain workers. Now, however, executives believe that finding and maintaining talent is even more difficult than it was in 2018 – up to 36% more, the study reports. In fact, 77% of manufacturers anticipate continued difficulty in attracting workers for roles from 2021 into the future. Executives note that even higher-paid manufacturing roles are also still open.
These positions range from entry-level, unskilled roles to skills and specialized positions.
Entry-level production or associate positions are jobs that require no technical or industry-specific knowledge. They include job titles such as team assembler, hand-held tool cutter, or production work helper. These positions require that an applicant possess a basic level of "human capabilities," like a willingness to learn and the ability to follow directions and complete tasks. Entry-level positions such as these could quickly be filled by high school graduates or workers who were displaced from other industries, as the starting wages in manufacturing (an average of $15.55 per hour) are nearly double the federal minimum wage ($7.25 per hour).
Five out of six fastest-growing manufacturing occupations do not require formal post-secondary education, yet so many of these positions remain unfilled.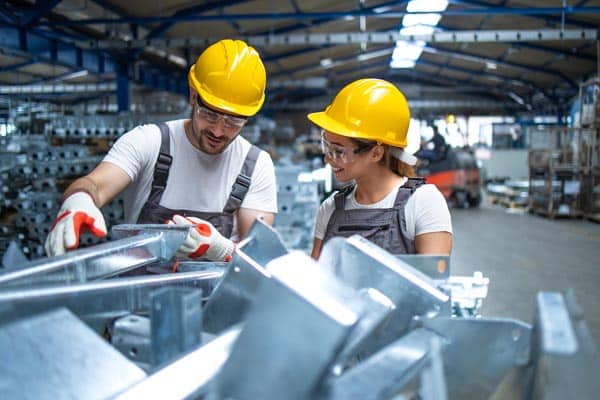 Then of course are their more difficult-to-fill counterparts – skills and specialized positions. These jobs require technical or applied skills training that can take between several months or even over a year, meaning that these positions can't be so easily filled by someone out of high school or transitioning from another industry. Many of these positions require certifications and might carry titles such as welder, maintenance technician or computer numerical control (CNC) machinist.
With so many open positions and difficulty filling them, manufacturing executives are understandably worried about their futures.
One executive summed up the fears of many during one of the study interviews. "Is there a point when we run out of production workers or a point when we have to consider moving to a different location?" he asked.
Filling manufacturing jobs may be a challenge, but it's not an impossible one, and it's certainly not worth moving operations across the globe for. By focusing efforts on marketing positions and connecting with quality talent pools, it is possible to get the right skilled workers for the jobs at hand.
Companies facing difficulties filling production or warehouse positions are enlisting the aid of staffing companies who specializes in helping manufacturing companies fill these positions with temporary workers to ensure that their production line and logistics remain up and running.
Sources:
Deloitte Insights
Payscale
Delta Technical College
San Joaquin College
Northeast Iowa College
Learn more about our staffing services: